Performative Masculinity and the Estonian Mining Industry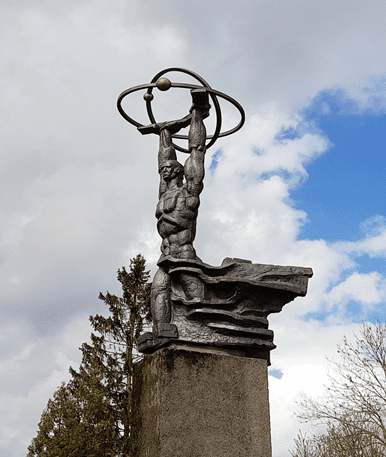 Image Credit: 'Peaceful Atom' monument at the city centre of Sillamäe, Ida-Viru County, Estonia © Katie Donnelly 2023
The recent Post-Extractivist Legacies and Landscapes symposium hosted by Tallinn University offered invaluable insights into the Estonian mining industry's impact on social communities and the natural environment. The tour of the underground mine at the Estonian Mining Museum in Kohtla-Nõmme, revealed so much about the daily labour and toils of twentieth-century oil-shale miners in Ida-Virumaa. An aspect that I found particularly interesting was the performative pressure that accompanied the mining profession. During the industry's rise to prominence in twentieth-century Estonia, extractive labour was presented as a respectable profession for men that contributed to the establishment of an ideal socialist society. This profession valued traits of strength, courage and resilience. The above image of the 'Peaceful Atom' monument in the town of Sillamäe encapsulates this prevalent masculine image of indefatigability. Not only were local landscapes and cities transformed by extractive technologies, but concepts such as social interaction, gender and the family unit were also impacted by hyper-masculine representations of extractive labour.
A prime example of this combination of hyper-masculinity and mining is evident in the Toila Spa Hotel, a former miner's health resort where workers were sent to recover from injuries and complications caused by their high-risk working conditions. A miner's profession was tiresome work, prone to accidents, casualties and even fatalities. With years spent underground in confined, noisy and damp conditions, men were often miserable carrying the burden of being the head of the family, and women felt constrained and overworked in their domestic roles (Kesküla 546-547). For miners working in these exhausting conditions, the system of sanatoria was intended to serve as a means of escapism.
As outlined by Eeva Kesküla, miners were expected to conform to a specific male stereotype, showing that they were good colleagues, good drinkers, sexually capable and providers for the family (546). The Toila spa resort perpetuated this hegemonic masculinity in its expectance of sexually-potent, alcohol-drinking and breadwinning men to socialise amongst each other, and more notably with other women. Also operating as a discreet space for extramarital affairs, men were permitted and encouraged to engage in sexual relationships outside of their marriages whilst staying in the sanatorium. While Kesküla's research relates to a mining resort in Kazakhstan, Estonia's mining communities were remarkably similar and we can assume that the milieu in Toila served much the same purpose in the 1990s, before it was sold to a private owner and made into a hotel. Toila's social acceptance and construction of the typical promiscuous male miner, resulted in a performative pressure on men to sexually satisfy their women. Yet as they were sent here to take care of their worsening health, such expectations proved contradictory. With the sanatorium serving as a recuperative break for men where they could gain needed rest when their personal life began to suffer because of their work, its purpose was to allow miners to regenerate their physical, mental and sexual health. However, the resort did not allow for such convalescence as the men were ultimately expected to act as if they were unaffected by their labour. Unable to sexually satisfy their wives at home, this inability to perform also transferred over to the sanatorium.
On the surface, Toila Spa fostered male wellbeing and nursed miners back to health. In reality, the resort perpetuated the social anxiety of gender performativity in its encouragement of hegemonic masculinity. In this sense, even the mining industry's attempts to promote rest and relaxation continued to threaten male health, while projecting the image of the heroic and stoic male miner.
– KATIE DONNELLY, University College Dublin
Works Cited
Kesküla, Eeva. 'Oasis in the Steppe: Health and Masculinity of Kazakhstani Miners.' Central Asian Survey, vol. 37, no. 4, 2018, pp. 546-562.
---